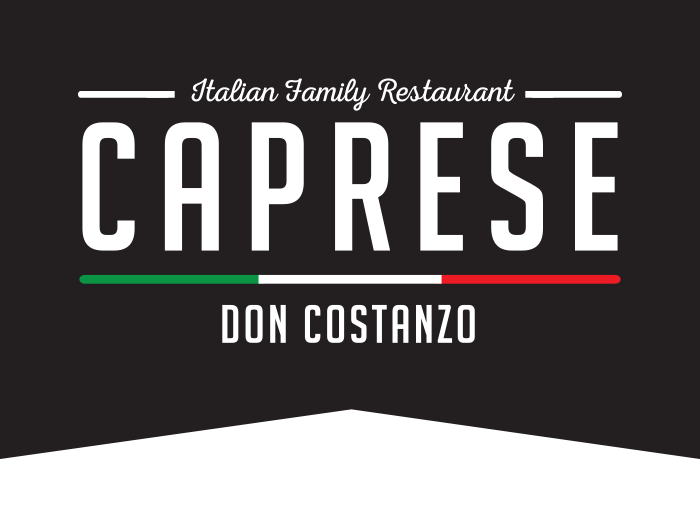 GREAT FOOD & IMPECCABLE SERVICE IS AT THE HEART OF EVERYTHING WE DO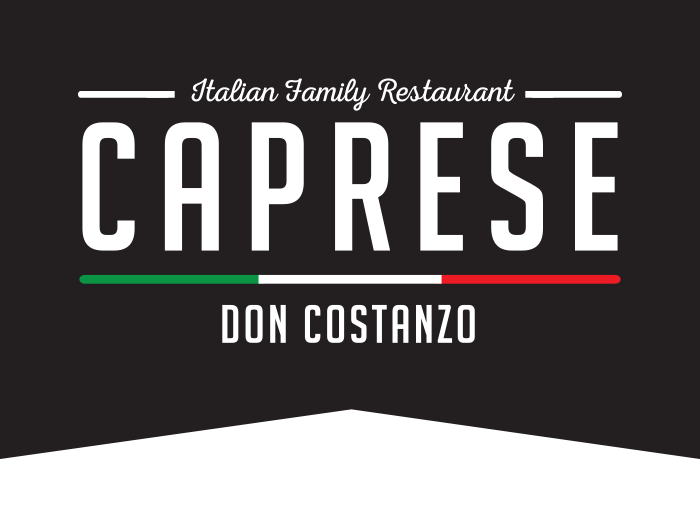 EAT TO THE BEAT LIVE MUSIC LAST FRIDAY OF EVERY MONTH AT CAPRESE

WELCOME TO THE FAMILY 
ITS A TRUE FAMILY AFFAIR HERE AT CAPRESE DON COSTANZO, ALL OF US HAVE WORKED HERE AT SOME POINT! WE TAKE GREAT PRIDE IN WHO WE ARE, A BIT DIFFERENT FROM THE REST. OUR STAFF ARE OUR FAMILY OR OUR EXTENDED FAMILY. OUR CUSTOMERS KNOW US AND WE KNOW THEM, WE KNOW THEIR FAMILIES, THEIR LIKES AND DISLIKES. WE'VE BEEN THERE FROM THE BEGINNING WITH SOME, FROM ENGAGEMENTS TO MARRIAGE TO STARTING THEIR FAMILIES AND WE'VE WATCHED THOSE CHILDREN GROW UP TO START THEIR OWN FAMILIES. WE LOVE WHAT WE DO, AND THAT ALL OF THESE PEOPLE ARE PART OF OUR LIVES AND OUR HISTORY.

TAKING PRIDE
Here at Caprese don Costanzo we take pride in everything we do from creating the perfect meal to providing the perfect service. We believe the devil is in the detail, thats why when you visit us you can be assured of a true Italian family dining experience.


SEASONAL PRODUCE
Whenever and whereever possible we source the freshest seasonal produce to use in our dishes. We have a range of meat, seafood and vegetable suppliers we have worked with for over 20 years who ensure we get the very best quailty produce delivered to us daily.

A PICTURE IS WORTH 1000 WORDS 
 Hi everyone.  We just wanted to quickly update you on the current situation. We were due to reopen on Wednesday 19th May but unfortunately the Scottish government have at the last minute decided to keep Glasgow on Level 3 restrictions for at least another week so...
read more

WHAT OUR CUSTOMERS SAY
"HAD HEARD AMAZING THINGS ABOUT THIS RESTAURANT BUT IT TOTALLY EXCEEDED OUR EXPECTATIONS, THE FOOD WAS EXCEPTIONAL GREAT SERVICE & FRIENDLY STAFF. WILL DEFINITELY BE BACK"
TripAdvisor – November 2019
WHAT OUR CUSTOMERS SAY
"CANNOT THINK WHY, LIVING LOCALLY, I HAD NEVER VISITED HERE BEFORE, AS I KNEW ITS HISTORY & GREAT GLASGOW REPUTATION. IT'S A WORD OF MOUTH SECRET FIND & DESERVES ITS LONG STANDING LOYAL CLIENTELE!"
TripAdvisor – September 2019
WHAT OUR CUSTOMERS SAY
"WE COME IN ONCE A FORTNIGHT, WE HAVE HAD GREAT MEALS OVER THE PAST 3 YEARS & EVERYTHING IS ALWAYS TASTY & DELICIOUS. IT'S REAL OLD SCHOOL ITALY!"
TripAdvisor – February 2019
WHAT OUR CUSTOMERS SAY
"I HAVE BEEN EATING IN THIS PLACE FOR OVER 20 YEARS. THE FOOD AND THE STAFF, THE WELCOME IS WHY I KEEP GOING. IT IS A SPECIAL PLACE, WITH SPECIAL FOOD & SPECIAL PEOPLE WORKING HARD IN IT."
TripAdvisor – December 2018
WHAT OUR CUSTOMERS SAY
"THIS PLACE IS A LITTLE GEM. FOOD PRICE IS REASONABLE, THE INSIDE IS WONDERFULLY DECORATED, I FELT LIKE I WAS IN ITALY. THE STAFF WERE EXCELLENT & THE FOOD WAS DELICIOUS. GENUINELY THE BEST ITALIAN IN GLASGOW BY A COUNTRY MILE"
TripAdvisor – September 2019
WHAT OUR CUSTOMERS SAY
"BELIEVE ME, IF YOU WANT TO FEEL HOMELY, WELCOME AND EAT SOME OF THE FINEST FOOD IN GLASGOW FOR A VERY REASONABLE PRICE, YOU MUST TRY HERE. MY FAVOURITE RESTAURANT IN GLASGOW."
TripAdvisor – January 2019
WHAT OUR CUSTOMERS SAY
"I FOUND THIS RESTAURANT AFTER MY SISTER & HER HUSBAND MOVED INTO A FLAT NEARBY. WE TOOK MY NONNA & NONNO TO ONE OF THE ITALIAN DINNER/DANCES THEY HAVE. IT WAS AMAZING. I RAVE ABOUT THIS PLACE TO FRIENDS & FAMILY"
TripAdvisor – March 2019


YOU CAN FIND US AT 13 WOODSIDE CRESCENT, GLASGOW G3 7UL
TELEPHONE: 0141 332 3070
We are easily accessed from the M8 motorway westbound cut off at Charing Cross. If you are driving, drive on to the end of Woodlands Road at Georges Road, go straight ahead until you reach the first set of traffic lights across from Sainsbury's and turn left (at the Drake pub) onto Lynedoch Street, take the first left again, go to the end of that road and turn left again. That will take you onto Woodside Terrace and Woodside Crescent is a continuation of the Terrace. Drive along and go halfway down the hill and we are located on the left hand side in the basement of No 13.
Please call us if you get lost!

ABOUT
It's a true family affair here at Caprese Don Costanzo, all of us have worked here at some point! We take great pride in who we are, a bit different from the rest. Our staff are our family or our extended family.
CONTACT
Caprese Don Costanzo
13 Woodside Crescent
Glasgow G3 7UL
Tel: 0141 3323070
Email: info@capresedc.co.uk